The creators of XCOM's the Long War released a new gameplay and U.I. XCOM 2 mod today, following up on their initial mods they released alongside XCOM 2's launch.
This new "Toolbox" mod opens up game extensions, such as support for 12 soldier squads, randomized initial stats as well as level-up stats, "Red Fog" effect that makes wounds cause stat losses, and a Damage Roulette option that widens the range of weapon damage.
The Toolbox also opens up an access point for modders to add additional options menus of their own. Another tweak that's been included in the mod is adding control to the camera rotation, allowing personal adjustments wherever necessary. A "clear squad" option quickly removes all soldiers from a squad, and "Autofill Squad" automatically fills empty slots with the best possible option.
Finally, the "ALLOW COMBAT AUTO-RESOLVE" option is made available. It was a debugging tool created by Fireaxis, but the Long War mod developers added it in to their Toolbox release.
If you want to check it out today, it's on the Steam Workshop.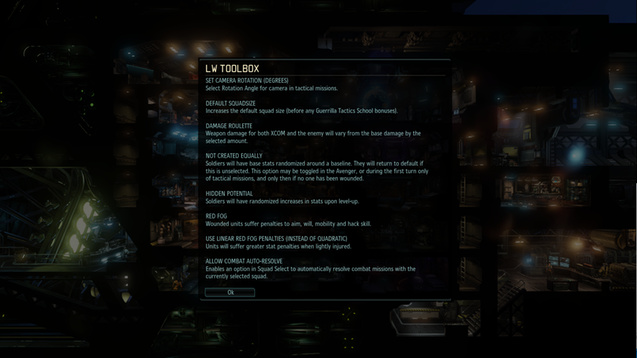 According to the announcement post on the XCOM website, four more mods are in the works.
"Long War Studios is working on four more mods that will be available to download on Steam Workshop for free over the coming months. The second mod will be the "Perk Pack" mod, which will be a solder class construction kit. The "Laser Pack" mod is the third mod and will be a new weapon tier coming out the same day as the "Perk Pack". The fourth mod that will be coming to XCOM 2 is the "Alien Pack" mod and will add 10 new alien enemies. The fifth and last mod from the Long War Studios team is still in the works and we'll be sharing more details soon."
If I had to guess on the fifth mod, I'd have to say it's a full expansion pack for XCOM 2.