Devil May Cry 5 was big at the Game Awards 2018, not only did we see the new theme for the game, but we also got a new trailer showcasing some awesome new gameplay!
The trailer showcases a bunch of never before seen things such as the new cameo system and the introduction to V's gameplay. This is the first time fans have gotten to see V in action and unlike his other counterparts — Nero and Dante — V fights a little different. He's a little slower paced and uses a cane!
Check out the new Devil May Cry 5 trailer for yourself down below:
The new cameo system has also been detailed. Thankfully, Capcom has detailed the system themselves, so there will be no mistakes of learning what its about from me, check it out in full down below:
The game is primarily a single player experience, but director Itsuno-san and the team really wanted to tell an epic story with three distinct perspectives and play-styles, where the main protagonists run into each other and collaborate from time to time. So to make that a reality, they've implemented a system where, while connected to the Internet, players will make guest cameo appearances in each other's games in real time, or through ghost data gameplay recordings. Depending on the mission, you'll see another player in the background, but in other cases, you'll actually be slicing and dicing demons side-by-side with another players!
Again, our focus is in providing a single player experience like no other, so this cameo system also ensures the experience is always as smooth as possible with no downtime.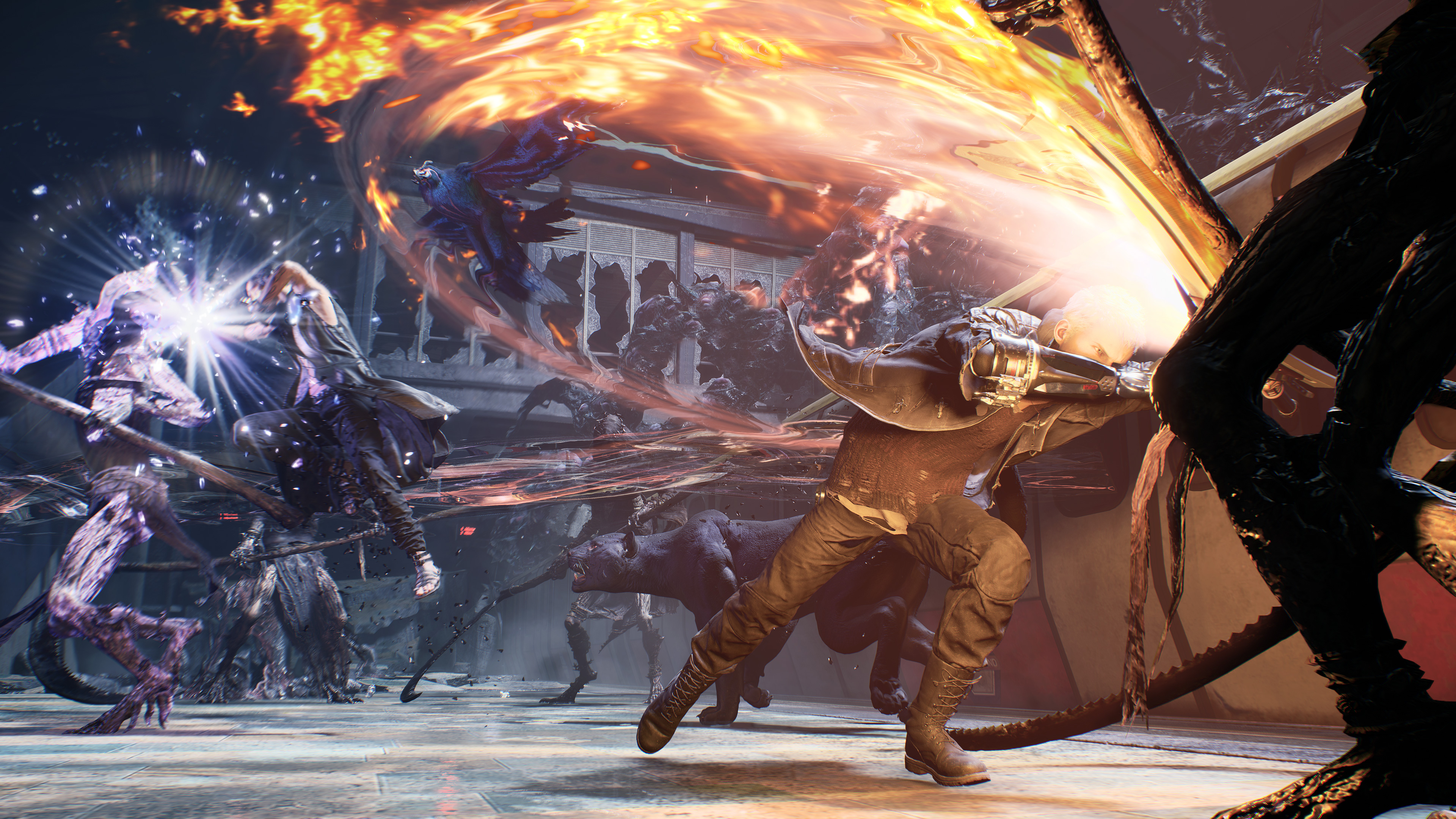 As you conclude each mission with a cameo appearance, you're given the option to rate the other players "Stylish" if they put on a good show. Just make sure you're on top of your game too, as a "Stylish" rating can come with useful rewards.
Just be mindful that some missions will be strictly single player, especially as characters split up to explore different areas, so if the story doesn't have any characters crossing paths, the gameplay experience will reflect that. And if you only play "offline," you'll actually be seeing ghost data gameplay recordings of the development team instead of other players'.
DMC 5 is looking pretty stunning so far, but with a couple months away from release fans, like myself, are probably eager to get their hands on it. Well, if you own an Xbox One, a brand new demo for DMC 5 has been released. The demo is similar to the ones Capcom showcases at conventions, so you'll get a good taste of everything — fighting, story, and visuals. This demo will be available for download from December 7, 2018, until January 6, 2019.
Devil May Cry 5 is set to release for the PS4, Xbox One, and PC on March 8th. Are you excited for the latest installment in the franchise? Let us know in the comments below!