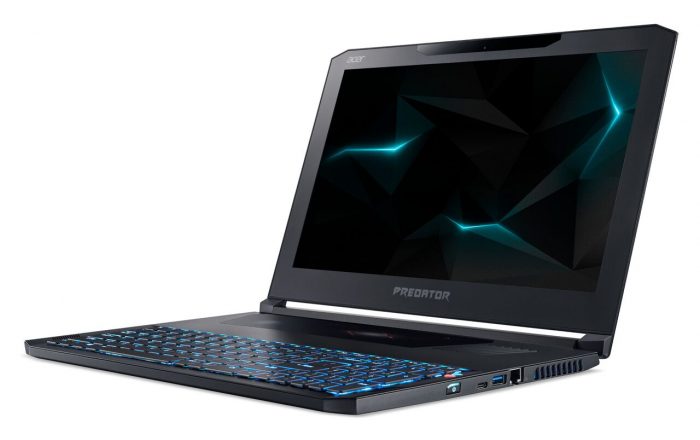 Amidst the noisy exuberance of PAX Aus, Acer showcased the latest additions to its Predator series. Two new products, the Acer Predator Orion 9000 Gaming PC and Acer Predator Triton 700 Gaming Notebook were available to the Australian public for the first time since an initial launch in Germany.
The Acer Predator Orion 9000 Gaming PC doesn't just look slick; beyond its sci-fi ready black and sliver exterior and customistable RGB lighting, LED-lit fans keep it cool under pressure, and embedded wheels allow for easy transportation of this bulky rig. A slim, durable chassis unlocks effortlessly by way of a convenient side panel, facilitating future DIY upgrades. Featuring up to 128 GB quad-channel DDR4 memory, the Orion 9000 houses two NVIDIA 1080 TI cards or four AMD Radeon RX Vega cards.
For those who like gaming on the go, Acer delivers with the Triton 700 Gaming Notebook, which utilises NVIDIA's NASA-tested Max-Q design for peak performance whilst maintaining a lightweight profile. It's VR ready, resists overheating through two Aeroblade 3D fans that guarantee maximum airflow, and packs a punch with its 7th Gen Intel Core i7 7700HQ processor.
Last but not least, Acer's answer to the extended reality boom is a Windows Mixed Reality Headset, a sensor-free piece of wearable tech that's easily set up in Windows 10. It comes packed to the brim with 20,000 unique Windows applications, a colossal range of games, ensures user comfort with an adjustable headband and reaches resolutions of up to 1,440 x 1,440.
Availability
Acer says the Predator Orion 9000 Gaming PC will be available starting December for $1,199 USD, while the Predator Trito 700 Gaming Notebook is priced at $2,999 USD and is out now. Australian gamers will have to wait until April 2018 to get their tech fix.