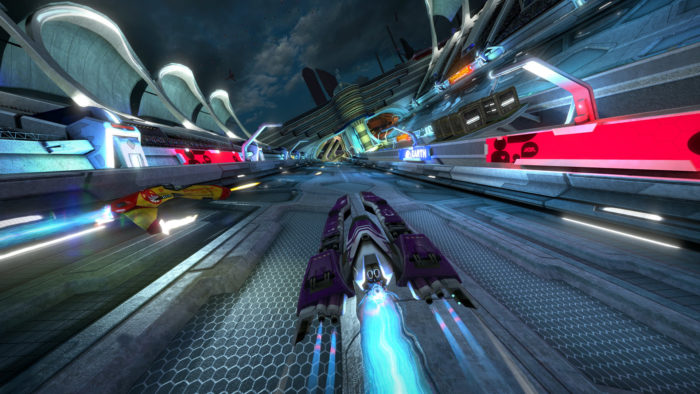 The WipEout series have always been known for their upbeat and awesome soundtrack. Fans of the series will be pleased to know that the upcoming WipEout Omega Collection's soundtrack has officially released.
Sony has released the WipEout Omega Collection soundtrack in a blog post, which features over 28 electric dance songs. The soundtrack combines some new artists and returning such as The Prodigy and The Chemical Brothers. Check out the full soundtrack down below or you can check it out on Spotify.
Here's the full tracklist:
1. ADDIKTION – Shake It (Wipeout Omega Instrumental Edit)
2. Airwolf – Talking Bass feat. Stace Cadet (Taiki Nulight Edit)
3. Black Sun Empire & State of Mind – Kill That Noise (Wipeout Omega Edit)
4. Boys Noize – XTC (The Chemical Brothers Remix)
5. Brodinski feat Louisahhh – Let The Beat Control Your Body
6. Carbon Community vs. Burufunk – Community Funk (Deadmau5 remix)
7. David Tort & Danielle Simeone – You Got To (Wipeout Omega Edit)
8. DC Breaks – Breathe (Instrumental VIP Mix)
9. CODE:MANTA – DFCK
10. Dillon Francis & NGHTMRE – Need You (DJ Hanzel & Drezo Remix)
11. DJ Kentaro feat. Matrix & Futurebound – North South East West (Tha New Team Remix)
12. Emika – Double Edge (GeRM Remix)
13. James Talk – Remote (Deadmau5 Remix)
14. Jerome Isma-Ae & Paul Thomas – Tomorrow (Luke Chable Remix)
15. Krakota – Lust Thrust
16. Matrix & Futurebound – Glow Worm
17. Matt Anthony – Headlights
18. Memtrix – IC YR PAIN
19. Metrik – Bring It Like That
20. Movement Machina & Timo Vaittinen – Upsides Have Downsides (Wipeout Omega Edit)
21. Noisia & The Upbeats – Dead Limit
22. Red One – Born Free
23. Soundprank – Obsidian
24. Swanky Tunes – Give It
25. Swedish House Mafia vs Knife Party – Antidote (Swedish House Mafia Dub)
26. The Chemical Bros – C-h-e-m-i-c-a-l
27. The Prodigy – Invaders Must Die
28. Warden – Get Down
Wipeout Omega Collection comes bundled with WipEout HD, WipEout HD Fury and WipEout 2048, with current-gen graphics on PlayStation 4, and 4K with HDR support on PlayStation 4 Pro consoles.
This remastered bundle releases exclusively on PlayStation 4 on June 6 in NA and June 7 in EU.