The military genre in video games is massive, and whether it's on console or PC, they tend to play pretty well. Want to know some of the best on PC? We'll show you the best available right now.
#17 BattleBit Remastered
Platform: PC
Release Date: June 15, 2023
When you think about FPS shooters with high player counts, you typically think of the AAA titles "built for this." But in BattleBit Remastered, you'll get something familiar yet different. For in this game, graphics aren't the most important element. It's all about the gameplay and putting as many players against each other as possible.
In each server, you can have up to 256 players. But don't fear framerate issues or lag. The game was optimized to ensure that even the highest player count will have smooth gameplay as you try to shoot each other up. So hop in and see what you can do!
#16 Six Days in Fallujah
Platform: PC
Release Date: June 22, 2023 (early access)
Some war games offer a small glimpse into what things were like during the heat of battle. It's a dark time for those involved, and in Six Days in Fallujah, we're looking at a realistic take on one of the more tense battles during the war in Iraq. More specifically, we're getting accounts from soldiers present during The Second Battle of Fallujah. This battle took place in 2004 when Al Qaeda seized control of Fallujah, a city now home to its local residents' brutal conditions. American and British forces worked together for six days as they fought to free Fallujah. Players can expect a tactical FPS experience with online co-op if they wish to play with friends. However, this is an early access title, so the full gameplay experience is still being developed.
#15 War Thunder
Let's start out with one that has you doing a lot of things because it has that many options. War Thunder lets you command hundreds of different potential vehicles in large scale battles that take place in the air, on the ground or within the water.
You'll need to have a true strategy to go forward with though, you can't just pick the units and have it. Other players will be fighting against you, and so if you're not ready, you're going to be in trouble.
Jump into War Thunder and you'll get to see how big and expansive the field of war can be.
#14 WARNO
There are many people out there who wonder what would've happened if the Cold War didn't stay cold. If the various forces in the world went at it once again in a massive conflict. Well, WARNO is the game that will help tell one version of how that "story" could've gone.
Because the team behind the game have recreated the Cold War but twisted a few things. Including Communism taking back over in Russia and leading to a conflict between the NATO powers and the Warsaw Pact.
Now, you'll get to choose a side, and use historically accurate vehicles and weapons in order to try and take the world or save it.
#13 Enlisted
Enlisted tries to put a nice spin on the first-person shooter by not just giving you a single soldier to go and control, but rather, giving you a whole squad of soldiers to control. Thus, how you act and command in the battlefield will have a heavy impact on what you do in the game.
Or, if you're looking for something a bit more powerful, you can lead a tank crew, or be an airplane pilot in the sky! It's totally up to you.
You'll get to put your skills to the test in various key battles of World War II, so you'll definitely want to try out all the various classes and such to see what works for you, and how you can get victory.
#12 World of Tanks
Sometimes, you just want to pilot a tank so you can blow things up. Totally understandable thing to want to do.
World of Tanks is a FREE MMO that'll allow you to go and wield some of the most unique and powerful tanks in the history of the world. You'll start out with a certain selection and then expand your arsenal as you progress through the battles.
Just remember, you're going to war with other players and their own tanks, you'll want to ensure that you use your tank to the fullest in order to come out on top. Plus, again, it's free, so why not try it?
#11 Sprocket
Ok, so maybe piloting a tank isn't enough for you. But how about getting to MAKE your own tanks? Yes, really. In Sprocket, you'll be put in the eras of WWI and WWII and asked to design some of the best tanks possible. But you're not just recreating older and classic tanks. Not unless you want to of course.
Rather, you'll be given near complete freedom to design your tanks form scratch so that they can hit the battlefield and unleash their fury. From the hull, to the treads, to the canon, and so on, you'll have to design to be functional and do well. Keyword here is "functional", you can't just go crazy with your designs, as that might hurt the functionality of the vehicle.
So think it through, and come up with a truly masterful tank.
#10 Hearts of Iron IV
Ok, let's step away from the tanks for a bit. Yes, we know you're sad about that, but still, we need to talk about other games, like Hearts of Iron IV.
This is the latest in a LONG line of strategy war titles, and Hearts of Iron is arguably one of the best of the lot. In it, you'll get to pick a country from World War II, and then guide them through the conflict. You'll not only get to control the military forces, but work to make the people happy, do negotiations and try and broker peace, and overall make the war come to the best possible end.
Or you can just run roughshot over everyone and claim total victory. It's truly your call.
#9 Defcon
At one point in time, the thing everyone feared more than everything else out there was nuclear missiles raining down from the sky and destroying us all. Now, in Defcon, you'll get to be the one pushing the button to try and both do that, and prevent that.
Confused? In the title, you'll play as a general hidden within a bunker. Armed with the ability to launch nuclear missiles, you'll need to go and do your best to both wipe out your enemies, their ability to counterattack, AND, try to keep your own casualties low.
This game is meant to invoke tension. You'll definitely feel it as you play.
#8 Squad
In the game Squad, it's really not about who has the best firepower, it's about who is willing to work together to overcome the odds and claim victory.
Because here, you'll be doing 50 v 50 matches with players divided up into squads so that they can try to pull off various tactics and maneuvers in order to achieve victory. Communication is vital here, because if your squad does what it's supposed to, or works together in conjunction with the others, then you'll get the win.
You'll also be able to outfit your soldier and vehicles in certain ways to further benefit your playstyle.
#7 Pavlov VR
It's honestly a little bit surprising that there aren't more VR war titles out there. Possibly because if you don't do it right the immersion is lost. Well, Pavlov VR does what it can to make the immersion real, really fun, and really expansive.
Because here we have another game where the point is going and communicating with your fellow players in order to come out on top. Not to mention, you'll be able to go to eras in the modern time and in places like World War II to have your fights.
Oh, and if you're into modding, the game supports that too!
#6 Hell Let Loose
Trying to get realism and authenticity in video games takes a lot of work, and it doesn't always work out. Hell Let Loose though is a game that aims to bring the chaotic nature of war to life, and it does that pretty well.
Because here, you won't just be fighting battles in World War II, you'll basically be living them. To the extent that you'll be facing fire from tanks, planes, other soldiers, and so on. All the while having your own forces advance or defend. The "line" of victory will move constantly as you go throughout the fight.
With two groups of 50 players and accurate use of weapons and vehicles, you'll find just making it through one map difficult.
#5 Panzer Corps 2
Panzer Corps 2 aims to be one of the deepest strategy war titles out there in the world right now. Not just be cause of all the content that it has within it. But because of how many units you can go and command. You'll be able to pick and choose from any of the major world powers and then combined have access to over 1000 units.
The campaign itself has over 60 scenarios for you to enjoy. Then, you can jump into the online field and you'll get to put your mind against others in order to see who is the best strategist.
#4 Call of Duty: Vanguard
It's honestly hard to pick apart the Call of Duty franchise. Don't get us wrong, when they do something wrong, they do it REALLY wrong. But, even in those times, the core gameplay is almost always solid, as Call of Duty: Vanguard proves.
In the main campaign you'll play as a set of soldiers from across the Allied nations who have been caught and you'll relive their adventures up until their capture.
Then, you'll dive into the multiplayer and enjoy all the various modes that make Call of Duty fans happy. Yes, including the zombies mode. So whether you want a deep story, or just want to have fun with friends only, Call of Duty: Vanguard has you covered.
#3 ARMA 3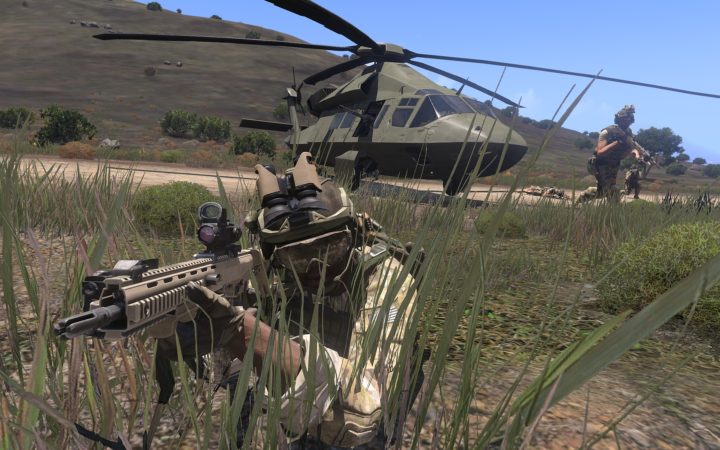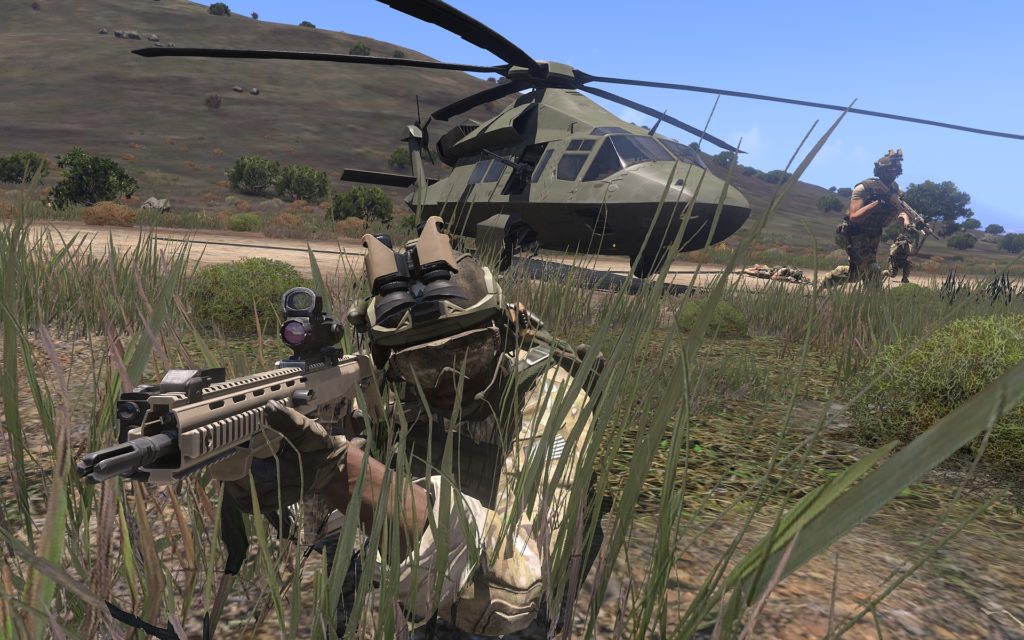 A perfectly placed title, ARMA 3aims to be one of the best military strategy games you ever play. Because here, you'll have a wide open island area to go and have fun in. You'll travel through cities, across hills and plains, and more in order to get to the enemy.
You'll also have a wide assortment of vehicles and weapons to pick and choose from so you can up the ante and take the fight to the next level.
Plus, when you're tired of the "standard stuff', you can go into the content creator section and make your own missions and battlefields! Ensuring that there is always something to go and do in ARMA 3.
#2 Sniper Ghost Warrior Contracts 2
It's taken us a while, but we've finally gotten to a game that puts the focus on snipers over all else. Sniper Ghost Warrior Contracts 2 will have you playing as the mysterious Raven, a sniper who is the best at completing contracts.
Your job this time around is to head to a lawless part of the Middle East and go deep into enemy territory so you can slowly but surely wipe out a criminal syndicate that lives there.
Make no mistake, there are no easy shots in Sniper Ghost Warrior Contracts 2. You'll need to use the terrain, Raven's skills, and your own judgment to try and get things done. Will you be able to complete the contracts?
#1 Tannenberg
Tannenberg is one of a line of war titles that seeks to be authentic and massive in all the ways that matter. Not the least of which is having huge 64 player battles across large battlefields. You'll need to both venture out on your own and work with other players in order to control key parts of the battlefield and get momentum.
There are also plenty of modes within the game to help give you all sorts of experiences. Including the "Maneuver Mode" where you'll need to keep things going like in an active warzone.
Experience the accuracy and detail of Tannenberg as you play it, because a lot of work went into making it.