2022 is shaping up to be one of, if not the, greatest year of gaming around. We've already had some big releases this year, and more are literally days and weeks away. Not to mention, we surely don't know all the games that are coming out this year as the big devs want to hold their secrets for a little while longer. So allow us to show you the best New AAA Games of 2022!
Disclaimer: Lord of the Rings: Gollum, Dead Space, Skull & Bones, Avatar: Frontiers of Pandora, Hogwarts Legacy, Atomic Heart, The Legend of Zelda: Breath of the Wild 2, Forspoken, Starfield, and Saints Row was removed as the games are no longer slated for 2022 or failed to keep their place on this list.
#19 Xenoblade Chronicles 3
Developer: Monolith Soft
Publisher: Nintendo
Platforms: NS
Release: July 29, 2022
Xenoblade Chronicles 3 in many ways is the culmination of everything that Monolith Soft has been building ever since the first game was brought over from Japan onto the Wii.
The game focuses on six characters who are part of a war between nations that seemingly has no end in sight. But when they learn the truth about how their nations and entire lives are being manipulated, they strive out on a quest to try and stop this from continuing.
You'll have a massive RPG adventure ahead of you, with a world apparently five times the size of the previous entry! Add that to a deep battle system and you'll be enjoying this game for some time.
#18 Pokemon Scarlet and Violet
Developer: Game Freak
Platform: Nintendo Switch
Publishers: Nintendo, The Pokémon Company, Nintendo of America Inc.
Release: November 18, 2022
With each generation of Pokemon, new advancements and evolutions (pun intended) happen and make the game better. For Pokemon Scarlet and Violet, the leaps that they're taking here could forever augment how we perceive Pokemon titles.
That's due to the fact that like the spinoff title Pokemon Legends Arceus, Pokemon Scarlet and Violet are going to have an open-world feel to the game. While we haven't been able to experience it in full, Arceus did it quite well, and Scarlet and Violet will likely advance it farther than that.
Plus, for the first time, we have two new professors, each ones tied to a particular game and legendary Pokemon. Not to mention, you still gotta catch'em all! So getting this game is a must for Pokemon fans.
#17 Mario + Rabbids: Sparks of Hope
Release date: October 20, 2022
Publisher: Ubisoft
Developers: Ubisoft Milan, Ubisoft, Ubisoft Paris
Platform: Nintendo Switch
Mario + Rabbids: Sparks of Hope is the LONG awaited sequel to the beloved game of Kingdom Battle.
In this expansive sequel, you'll load up with Mario and his Rabbid allies in order to span the stars to look for the mysterious creatures known as Sparks. But you're not alone in looking for them, as the vile Kursa has taken over Bowser's army and is trying to take the Sparks power for themselves!
Master the updated free-roaming battle system in order to take down enemies! Figure out your best squad and how best to use the Sparks in battle! The journey will take you across the stars, are you ready?
#16 Splatoon 3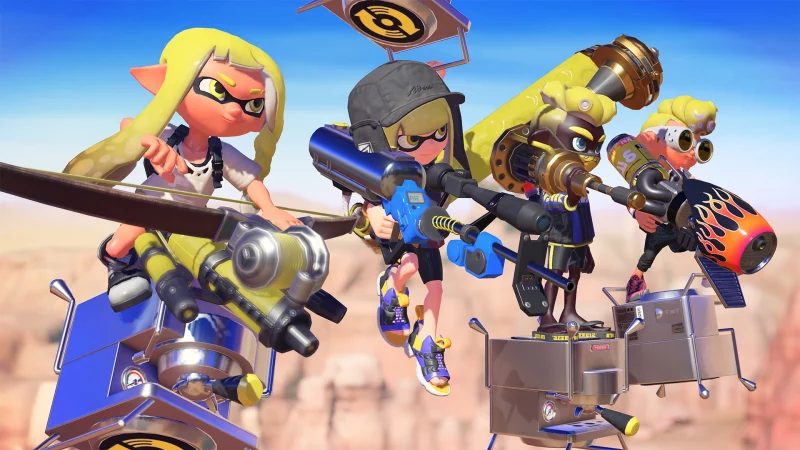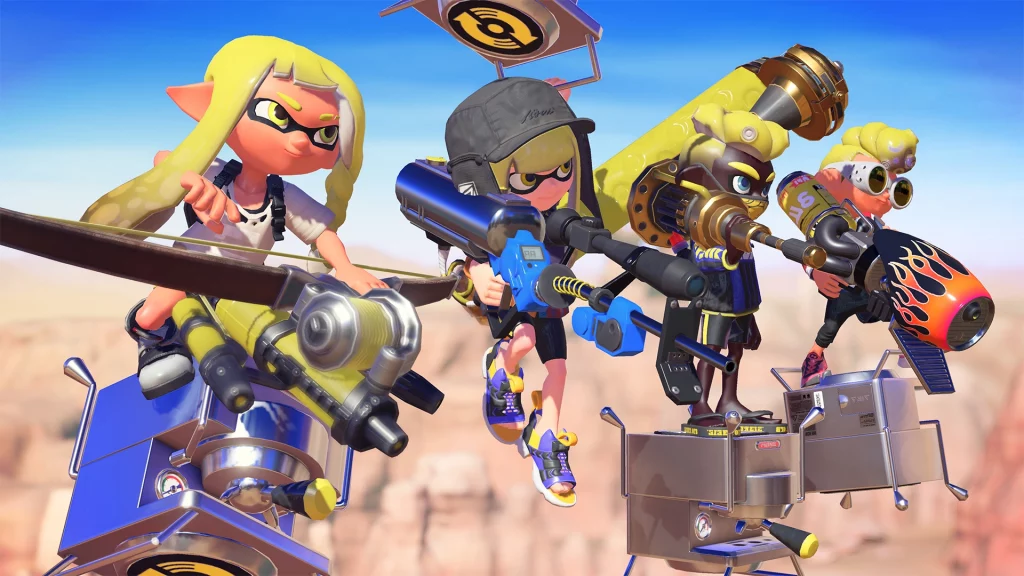 Developer: Nintendo
Publisher: Nintendo
Platform: Nintendo Switch
Release: September 9, 2022
Splatoon 3 is Nintendo's long-awaited follow-up to the Nintendo Switch's smash hit, Splatoon 2. As a launch window game, Splatoon 2 was massive on the Switch. Five years later, it's time for something new. Splatoon 3 looks to be enhancing the game in almost every way. New weapons, characters, and abilities are all making their way to the game. Splatoon 3 is also introducing a much-expanded co-op mode featuring giant new monsters to take down. This is going to be a must-buy for Nintendo Switch owners and it's likely to be the best shooter on the console.
#15 The Last of Us Part I Remake
Publisher: Sony
Developer: Naughty Dog
Platform: PlayStation 5 and Microsoft Windows
Release Date: September 2, 2022
Not much can be said about The Last of Us that hasn't already been said before. The original game was a triumph that consisted of several astonishing aspects that laid out the foundations for all the series' future successes. This remake version is set to be even better than the first; keeping all the emotion, character development, horror, difficulty, and the tremendous story of the original very much intact but aiming to improve on it with some unbelievably enhanced graphics and a few other aspects. Is the game needed? Probably not. The original is nearly 10 years old now, and we've already had a remastered version, but do they care? Not a bit. But going off some of the already released footage, it looks to be quite the upgrade.
#14 Marvel's Spider-Man Remastered
Release date: August 12, 2022 PC
Developers: Insomniac Games, Nixxes Software
Platforms: PlayStation 4, PlayStation 5, Microsoft Windows
Publishers: Sony Interactive Entertainment Europe, Sony Interactive Entertainment
Originally on the PS4, Marvel's Spider-Man Remastered is going to entertain a whole new crop of people when it comes out on PC soon. The reason for this is simple, the game is awesome, and was that way from the moment it arrived.
In it you'll play as Peter Parker, who is trying his hardest to balance life as Peter and life as Spider-Man. But when a whole bunch of villains start to pop up in New York all at once, he'll have to fight harder than ever before to make things happen and save the day.
Experience New York City like never before as you swing around a VERY accurate recreation and take on tasks big and small. All in a day's work for the friendly neighborhood Spider-Man.
#13 Call of Duty: Modern Warfare II
Release date: October 28, 2022
Developer: Infinity Ward
Platforms: PS4, PS5, PC, XBO, X/S
Publishers: Activision
What is there to say about the Call of Duty franchise that hasn't been noted by others at this point? You absolutely know what you're getting in the game just by playing it. And this isn't even the first time we've had a Modern Warfare 2!
But, it is one that will have a new story, updated graphics, and so on, and clearly they feel confident enough to make a "replay" of what happened before just making it better. You can expect a worldly campaign, and of course the multiplayer is going to be something that you'll want to check out and play with friends.
As sad and ironic as it is at points, sometimes the familiar is what people like best.
#12 Horizon Forbidden West
Developer: Guerrilla Games
Publisher: Sony Interactive Entertainment
Platforms: PlayStation 4, PlayStation 5
Release Date: February 18, 2022
Now let's talk about a few games that are out right now for you to enjoy. Including one that is an early contender for Game of the Year!
Horizon Forbidden West is the sequel to the mega-hit game Horizon Zero Dawn, and features you once again in the role of Aloy. Her world is dying, and to save it, the game takes you to an all-new region where you must find what is necessary to protect the world, stop multiple machines and others who would do you harm, and more.
Aside from looking stunning on the PS5, Forbidden West opens up the world even more to you, and even lets you craft a fun playstyle based on what you want via the skill trees that are now there.
So take the journey, and see what wonders await you.
#11 Dying Light 2: Stay Human
Developer: Techland
Publisher: Techland
Platforms: Xbox Series X and Series S, PlayStation 4, Xbox One, PlayStation 5, Nintendo Switch, Microsoft Windows
Release Date: February 3rd, 2022
If you're looking for an even more intense action game, then you might want to try out Dying Light 2: Stay Human.
Before you ask, no, you don't need to have played the first game to play this one. It's set well after the first title and has you as a new character, and in a new region known simply as "The City".
Dying Light 2 embraces what the first game did, while also adding to it in its own way. Such as with the day and night cycles which will test your character in various ways. Not the least of which is that you yourself…are infected. And if you stay out too long, you'll turn.
The action is not just intense, but you'll be able to shape the city and who rules it based on your choices. So stay alive, stay prepared for the living and the dead, and above all else…stay human.
#10 Tiny Tina's Wonderland
Developer: Gearbox Software
Publisher: 2K Games
Platforms: PlayStation 4, PlayStation 5, Xbox One, Xbox Series X and Series S, Microsoft Windows
Release Date: March 25, 2022
A game that isn't too far from release, Tiny Tina's Wonderland is a first-person shooter that continues your adventures in the Borderlands, albeit in a different way.You might recall a similar title via the Borderlands 2 DLC content.Yes, this is a sequel to that, and on top of a new story, there are new gameplay features here that further separate it from the mainline titles.
Not the least of which is that you'll be able to fully customize your character for the first time ever. And you'll be able to mix and match skills between the various classes to make the character that you think is unstoppable.
But don't worry, there will be plenty of guns to wield and things to shoot. So hop on in and have a blast.
#9 The Callisto Protocol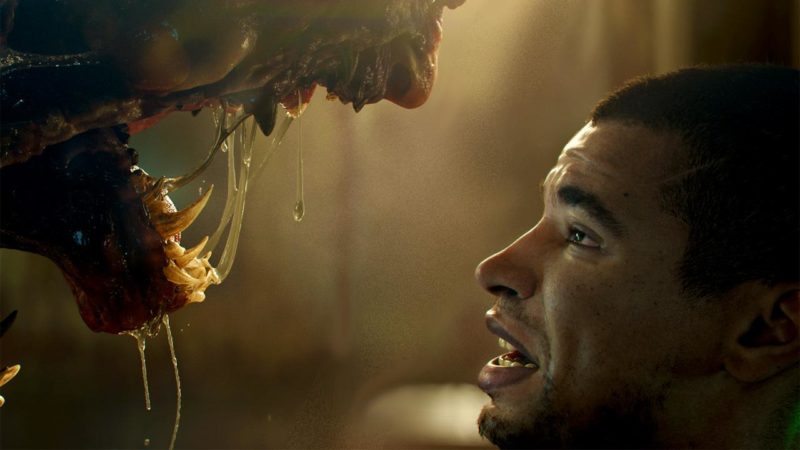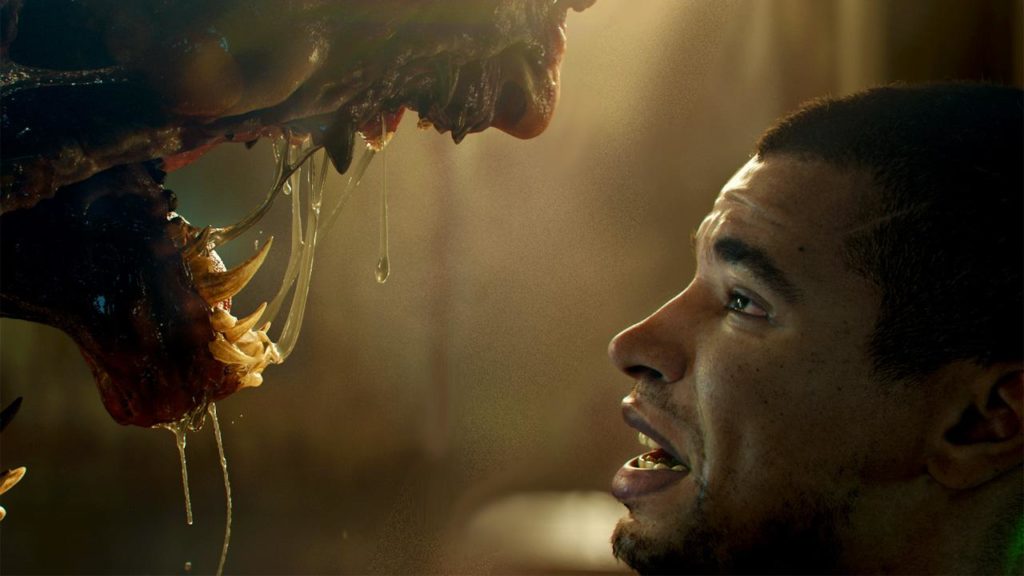 Developers: Striking Distance Studios, Inc., Skybound Entertainment
Publishers: KRAFTON, KRAFTON, Inc.
Platforms: Microsoft Windows, Xbox Series X and Series S, PlayStation 5
Release Date: 2022
Unique name aside, The Callisto Protocol is from the team who made Dead Space (a game we'll be talking about again very soon…) and as a result of that, there's some serious hype around this title.
Like Dead Space, this will be a third-person survival horror title, and one that is set in the PUBG universe of all things. You'll find yourself in a prison that is being overrun by an alien invasion. The twist? It might have been started by the prison's warden.
While we still don't know much about the title, we do know it'll be story-driven, and based on the looks of the game we do have, they're really going to try and scare you. So you best be ready for that.
#8 Ghostwire: Tokyo
Developer: Tango Gameworks
Publisher: Bethesda Softworks
Platforms: PlayStation 5, Microsoft Windows
Release Date: March 25, 2022
Definitely one of the more unique titles coming out this year, Ghostwire Tokyo puts you in the modern world of Tokyo, but with a very supernatural twist on it all.
Something evil is causing the people of Tokyo to vanish, and you have to ally yourself with a "spectral entity" in order to find out the truth and see what all is going on in your homeland, and what happened to your family.
This isn't your typical title, as you'll be in a modern world, but using spells and other abilities to exorcise demons and banish spirits back to where they belong.
Bethesda is definitely taking a swing on this one, but just because it's a swing doesn't mean it's going to miss.
#7 A Plague Tale Requiem
Developer: Asobo Studio
Publisher: Focus Entertainment / Focus Home Interactive
Platforms: PC PS5 XSX|S Switch
Release: October 18, 2022
If you were a fan of the first game, A Plague's Tale Requiem will scratch your itch for more. Amicia and Hugo are back in a brand-new adventure that will push their loyalty to one another to the brink.
Amicia believes that Hugo will be safe in their new home, but it's not to be. So to protect Hugo, they must seek a legendary island that rumors say could help him. Whether she believes it to be real or not, she takes Hugo and must fight those who would rather kill him than save him.
Wield whatever you can find and keep Hugo safe. The rats in the game aren't the only things to fear, for humans can be just as vile.
#6 Gran Turismo 7
Developer: Polyphony Digital
Publisher: Sony Interactive Entertainment
Platforms: PlayStation 4, PlayStation 5
Release Date: March 4th, 2022
An appropriate time to talk about this title, right?
Racing titles can be a variety of things (just look at Mario Kart), but with Gran Turismo 7, they're once again trying to make this the most beautiful game that features cars that you've ever seen.
They've once again gone and made not only the cars look great, but the world itself. Including having dynamic weather patterns and the use of time of day to determine how things look if the world as you drive.
The PlayStation 5 version of Gran Turismo 7 will also run at 4K resolution and 60 frames per second with support for high dynamic range. Which means it'll look good as you're driving through classic modes and new ones.
#5 Pokemon Legends: Arceus
Developer: Game Freak
Publisher: Nintendo
Platforms: NS
Release: January 28, 2022
There is a brand new Pokemon game coming out next year from Game Freak's development team. This new upcoming installment is Pokemon Legends: Arceus, and so far, fans have been expecting an extensive new experience. This game is set long ago within the Hisui region before it was known as the Sinnoh region. Players are dealing with a slightly new take with the game, putting our protagonist in a period before there were Pokemon Leagues. In this game, you're venturing out into the world, looking to study the different wildlife. This time around, you can also attempt to catch a Pokemon freely in the open by throwing a Pokeball before entering into a battle phase.
#4 Bayonetta 3
Developer: PlatinumGames
Publisher: Nintendo
Platforms: Nintendo Switch
Release Date: October 28, 2022
And now for a bonus title that we fully expect to be coming this year, but we'll be just as honest, we're not sure what to expect.
Bayonetta is the lovechild of Platinum Games and Hideki Kamiya, and for two titles now, the ravishing lady known Bayonetta has killed angels, demons, gods, kicked her own father's butt multiple times (in multiple forms) and so on.
Kamiya has said they're aiming to do something new and fun while still being Bayonetta-esque, so we should be able to predict it will be good. Let's just hope she's not even more "unfashionably late".
#3 Gotham Knights
Developer: WB Games Montréal
Publisher: Warner Bros. Interactive Entertainment
Platforms: PlayStation 4, PlayStation 5, Xbox One, Xbox Series X and Series S, Microsoft Windows
Release Date: 2022
If you were a fan of the Batman Arkham games, then your next big fix is going to be Gotham Knights. In this title, Batman has been killed by the mysterious Court of Owls, and the battle for the soul of Gotham City has begun as a result.
With The Dark Knight dead, it's up to his proteges in Nightwing, Batgirl, Red Hood and Robin to save the day.
Gotham Knight is building off of what the Arkham titles did before, but putting fun twists on it. You can play by yourself, or, team up with friends as one of the other Bat-Family characters in order to stop classic Batman villains. You'll also be able to build up your characters how you want.
So go save Gotham, you're its only hope.
#2 God of War Ragnarok
Developer: Santa Monica Studio
Publisher: Sony Interactive Entertainment
Platforms: PlayStation 4, PlayStation 5
Release Date: 2022
Finally, but most definitely not least, we have God of War Ragnarok.
The original God of War games were action-powerhouse-filled spectacles with some M-rated content for the sake of it. The PS4 God of War title though redefined the series in literally every way while also paying tribute to what came before.
Kratos is now a much more stoic warrior, and a father, and his son is by his side throughout the game. And now, with God of War Ragnarok, things are going to get even more intense with the arrival of Thor and other Norse entities who might try and separate father and son…at their own peril.
The first game in this new line was a breath of fresh air for the franchise, so one can only wonder what will happen in this game when it releases later this year.
#1 Elden Ring
Developer: FromSoftware Inc.
Publishers: FromSoftware Inc., BANDAI NAMCO, Namco Bandai Games America Inc.
Platforms: PlayStation 4, Xbox Series X and Series S, Xbox One, PlayStation 5, Microsoft Windows
Release Date: February 25th, 2022
The most recent release, Elden Ring is the spiritual successor to basically all the games that From Software has done in the past. Demon Souls, Dark Souls, Bloodborne, and Sekiro Shadows Die Twice. And it shows because this is yet another gamer that is aiming to be a big contender for game of the year, and it's not hard to see why.
The game puts you in a world in chaos, as you must find the Elden Ring in order to stop a war of higher beings. But how you do that is up to you. Because for the first time, this "Souls Title" sends you to the open world where you can do things at your leisure.
Build your character, fight incredible boss battles, and see if you can save the world…or doom it.